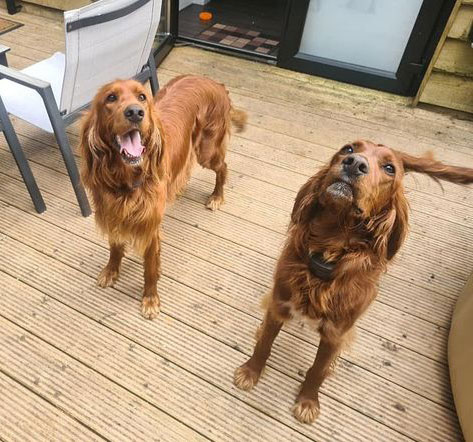 If you choose to stay with us 🙂 (thank you) an integral part of The Fairy Glen is our 2 x red Setter Dogs – Marti (Girl) and Gerry (boy). As with all red setters they are medium/large in size and have a tendency to be excitable and energetic. There are a few tricks to be aware of when dealing with Marti and Gerry so on all bookings I will send you details to note when arriving to The Fairy Glen.
Red Setters are particularly good with Children, this was one of the main reasons we choose this breed as we have 3 young children and I have to say they are amazing with them. There is no filling Red Setters so if they smell food and if you are having a BBQ they will be your best friend. My advice is just don't feed them….as they will simply not leave you alone.
The dogs are free to roam the whole property and love meeting all our guests and hanging out with them during their stay. They seldom bark and just love company! If you want them to not pay you too much attention then just don't feed them lol. We are a dog friendly property but we ask that all guests looking to stay advise us of the type of breed you wish to bring as not all breeds are suited to this environment. When out and about around the property we just ask that you keep your dogs on a leash just to be respectful of other guests. Now with our new walk/run trail there is plenty of space for 'walkies'.